Tree house plans without the guesswork
Whether you have some experience of working with wood, or you're new to the idea, these guides will take you through every step of the process of building a safe, modern treehouse in one of your own trees. Each guide gives a straightforward approach to the project with full cutting lists and detailed diagrams. When you order a guide you will be able to download and print a high resolution PDF of the plans.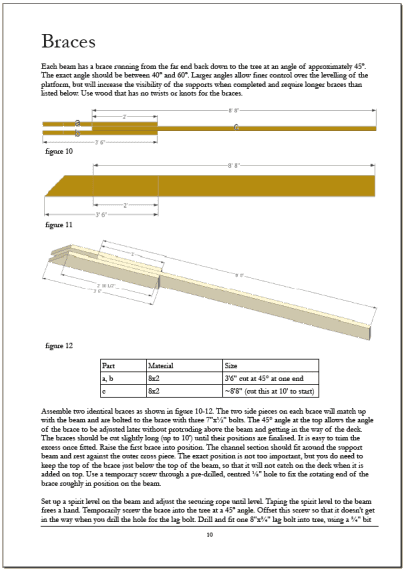 Sample page from the Terrazza tree deck
What level of skill is needed?
These guides are intended to open up the idea of a treehouse project to people who might otherwise have avoided it through lack of woodworking experience. The guides shown on this site are not just plans, they are step by step instruction booklets which take you through the entire process of building your own treehouse or playhouse. The level of detail makes them superior to general treehouse books which can simply not afford the space to describe every piece of wood you will need, how to cut it and where to position it in the structure.
You should have some basic knowledge of woodworking processes and of handling wood. This includes the ability to cut wood with a handsaw or circular saw to measurements given to you in the guide and carry out simple work from a ladder. You will need to operate power tools and hand tools safely and be aware of how to handle heavy wood to prevent injury to yourself and other people. In some cases you will require extra help as not all steps are possible to complete with only one person.
Why do these guides have specific tree requirements?
Treehouse Guides products are designed in a lot of detail so they are very predictable to build. You will be able to envisage how your structure will fit in your space before you begin. The guides must be produced to certain levels of safety and simplicity to keep to the general specification of 'waterproof, durable and easy to make' so the supporting tree or site must be able to accept quite a specific structure. Any variables may affect the structural performance so these are kept to a minimum. This will ensure your building matches the guide accurately.
I don't have any trees/my tree doesn't match the requirements
If you don't have a tree that's suitable for the design you wish to build, you can use posts to support the house above the ground, or use a combination of a tree with posts. This works well if your tree is growing at an angle or is slightly smaller than the normal size requirements. Pressure treated 6x6 or 4x4 posts are set in concrete. The San Pedro, Zelkova and Kauri treehouses can now be built on posts or with partial tree support, using a free guide which is included with each order. The Savanna bird hide is designed primarily to be built on posts.
Where can I get the parts needed for these designs?
The guides are based on readily available materials to avoid the complication and cost of special orders. Wood purchased direct from a sawmill or lumber yard can be considerably cheaper than from hardware stores. Some of the larger bolts used for the supports may not be available locally but can be ordered online from one of these suppliers.
What makes these plans different to a treehouse book?
If you have an interest in treehouses we always recommend you purchase a treehouse book or two to provide background and insight into the whole treehouse phenomenon. Several recommended books are available to order through our sister site, The Treehouse Guide. While you can learn a lot about treehouses from these books, and even read building instructions and see plans, none go into as much detail as Treehouse Guides does with the guides on offer through this site. It is this level of instruction that sets the guides apart. They are designed for specific situations and you will find every instruction you will need for every part of the process inside. Take a look through the samples for each guide to see some of the actual pages.
Will Treehouse Guides produce custom designs for my trees?
Currently this is not a service that we offer. Custom structures need careful planning and preferably a site visit to produce a workable plan. You are welcome to ask questions about your own ideas. This may provide you with useful advice that will help you progress your treehouse idea.
I have another question about the guides...
Please contact us with any questions or ideas you have about any of the guides on offer.