Terrazza tree deck
For one tree between 1' and 2' diameter at floor level
30sqft floor space
Tree-friendly design
Wooden ladder for access
Swing suspended underneath deck
Open layout allows your own additions
19 pages with 22 diagrams take you through every step of the build
Full material lists
Includes marginless version for ereaders
28 day satisfaction guarantee
Help is available by email
This deck is built in a single tree, which makes site choice simple and construction easy. It is a space suited for children and adults alike, and has room for two chairs, railings for safety and a wide handrail. Almost all of the structure can be built on the ground and raised into the tree in sections, making assembly easier and safer.
Tree requirements
This guide requires a single, healthy tree with a diameter between 1' and 2'. The trunk must be within 5° of vertical. The supports will need an area of cleared space 6' below floor level and branches above floor level may need to be trimmed to make space for the deck.
The tree is treated with respect throughout the building process. Only the necessary supports are bolted to the tree — the deck then rests entirely on these supports. Bolts are precisely placed for strength, safety and to reduce restriction to the growth of the tree. This ensures that the tree will remain healthy.
Sample pages from this guide
Support braces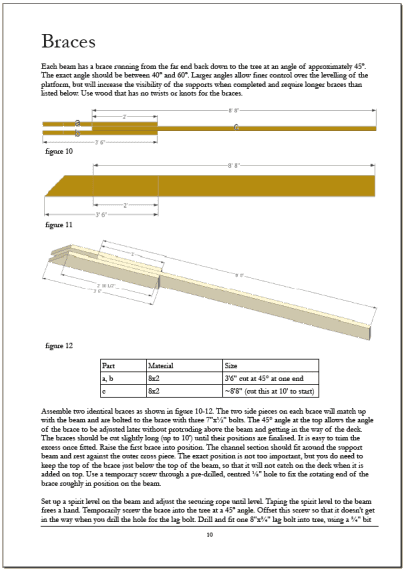 Start of railing construction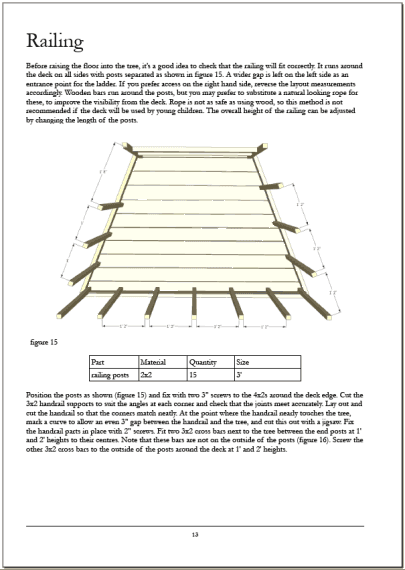 Access ladder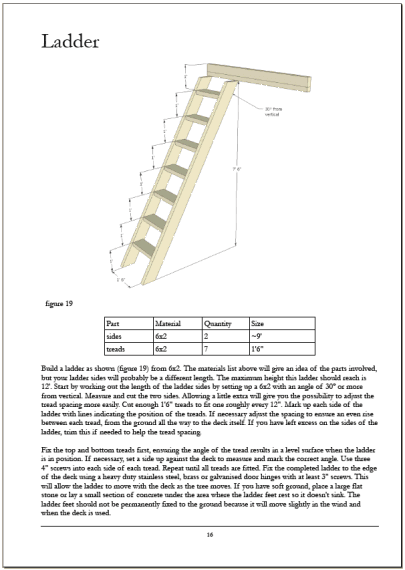 Swing at edge of deck