Alpino treehouse
A child-scale treehouse built between two mature trees or next to a single tree with post support. The floor measures 4'x7' and the ridge of the roof is 4'2" high inside. Access is by a hinged trapdoor built into the floor and there are three windows at each end to keep watch over the surroundings.
The treehouse is easy to put together and can be completed in around a week by one person. Most of the construction takes place at ground level, which improves accuracy and is faster than building in the tree. Instructions are included for both the two tree and one tree method so you can choose which fits your site best. The two tree method of construction allows the treehouse to move with the wind, without putting extra strain on the supports or trees. At just 28 sq ft, this treehouse uses significantly less material than the Kauri, San Pedro or Zelkova designs which helps to keep costs down and makes handling the components easier.
Help is available by email and a 28 day satisfaction guarantee applies.
Tree requirements
The treehouse can be built with one or two trees and instructions are included for both methods. The tree(s) should be at least 9" diameter at floor level and separated by 6'3" to 10' when built in two trees. The single tree method requires stable ground conditions to support two posts approx 6' from the tree.
Sample pages from this guide
The guide covers every step of the build over 31 pages with diagrams to illustrate the location of parts and position of bolts. There are no complicated techniques to learn, no difficult joints to master, and all the materials are readily available. A marginless version of the guide is included for ereaders.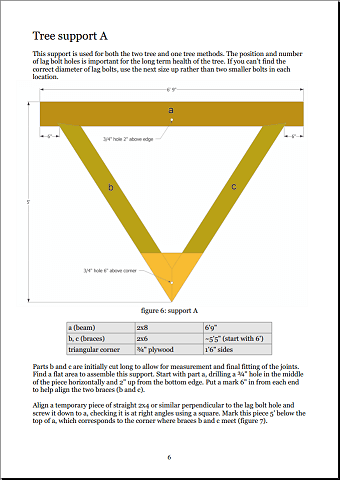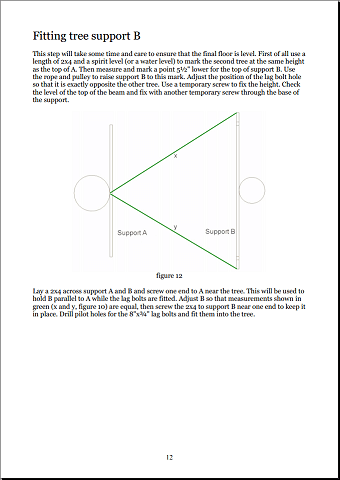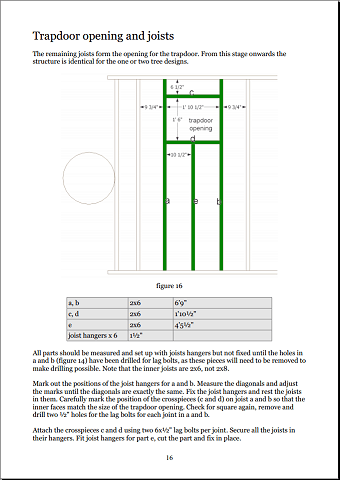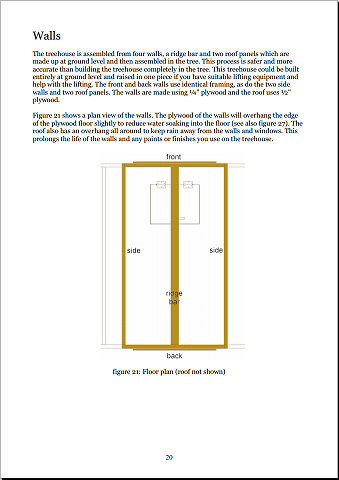 Trapdoor and counterweight